LONG-TERM AND LOYAL EMPLOYEES
We are able to provide the highest quality workmanship, value, superior service and integrity because of the team of dedicated people working for Bigman Brothers. It all starts with hands-on ownership and the values we've cultivated over generations. We understand the importance of each project because our reputation is earned by how we deliver every time. We commit our resources and industry experts to your job and we're confident you'll experience the best possible outcome because of our people and our approach.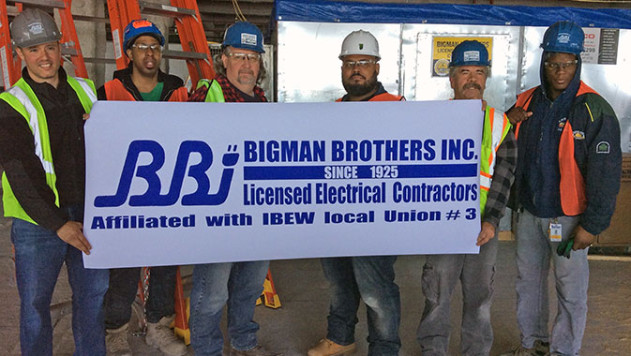 As a company, Bigman is proud of our longstanding relationships with our clients and employees. It's not unusual for our customers to have been working with a member of our team for many years. Our employees' history with Bigman guarantees a lasting relationship with our customers.
Michael Bigman
Michael Bigman is the Chief Executive Officer of Bigman Brothers and has served the company for over 30 years. After graduating from Hofstra University with a Bachelor of Business Administration, Michael worked in commercial banking before joining Bigman Brothers. Under Michael's leadership, Bigman Brothers Electric has grown from 20 to over 100 skilled electricians.
Scott A. Bigman
Scott Bigman is the President of Bigman Brothers and has been at the company since 1990. Scott holds a Master Electrician's License in New York City. After receiving his Bachelor's Degree in Economics from University of Wisconsin, Scott developed a specialty in electrical contracting from the NYU School of Professional Studies Construction Program. During his time at Bigman Brothers Electric, Scott has managed projects for numerous large retailers, including Bloomingdale's, Macy's and Target.
Ian Booth
Ian Booth is the Chief Estimator for Bigman Brothers Electric and brings almost 40 years of industry experience to every estimate. Before entering the electrical contracting industry, Ian served in the United States Navy for 5 years. To request an estimate from Bigman Brothers, please use the form on the Contact Us page, or email Ian Booth directly at:

[email protected]
Lenny Jackowski
Lenny Jackowski is the Director of Field Operations at Bigman Brothers. Lenny began his career at Bigman Brothers over 30 years ago as an apprentice and oversaw the company's service division for 25 years as a foreman. Lenny holds OSHA and NFPA for Managers and Electricians.